Cumin-crusted lamb makes me weak in the knees. I developed an obsession for it years ago when living in Beijing. From lunchtime through late night hours, it was easy to find street vendors selling cumin-crusted lamb kebabs, which they would cook up right in front of you on a charcoal grill. I also made a point of eating out often at Xinjiang restaurants (run by the minority Uighurs), where you could satisfy your lamb cravings with even bigger lamb kebabs on 18-inch metal skewers.
So when I saw Robyn's post on Fu Run last month and her photos of the restaurant's famous "Muslim lamb chops", the restaurant seemed like a good excuse to not cook for one lunch out of the week, and instead head out to Flushing. Fortunately, Kian from Red Cook was also eager to try it, so we made an afternoon of it.
Last summer one of my go-to cheap light meals was the liang pi noodles ("cold skin noodles") at Xian Famous Foods, spicy noodle bliss for $4 a plate. This spicy bean noodle salad was about 10 times better, which is saying a lot. These chewy glass noodles made with mung bean and tossed with peanuts, cabbage, cilantro, cucumbers, and an amazing chili sauce were so light and refreshing that we both wanted to lick the plate. Yes, spicy food that as actually cooling and refreshing is a rare feat, but this salad definitely fit those qualities.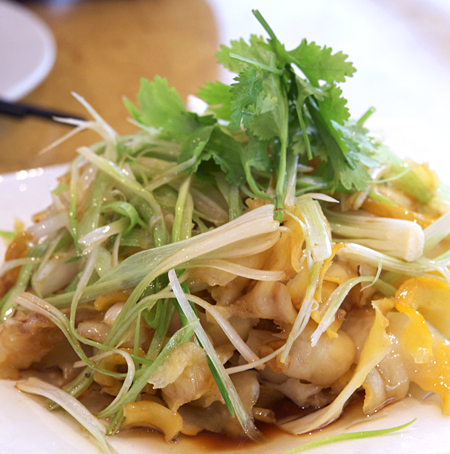 This stir-fried conch dish that Kian ordered was also delicious, with a sauce that seemed to be simply soy sauce and rice wine. Thus is the power of using super-fresh ingredients with very little seasoning.
Instead of rice, as a starch we got these pork and cabbage dumplings with thick, doughy skin. The fillings were so juicy that they were half-way to being soup dumplings.
And finally, out came the "Muslim lamb chops", which are actually a lamb ribs that were braised; crusted with whole cumin, sesame seeds, and chili; then fried. It was a glorious hunk of meat, barely fitting on the long platter. Our waitress spent a while carving it up table-side. The meat was so tender it fell off the bone, and was less gamey than I expected. The cumin-crusted skin on top was crispy enough to remind me of pork cracklings.
(We over-ordered for two people, so half of the lamb had to be packed up and reheated later for dinner. It maintained its tenderness even in the microwave.)
After lunch we checked out the New World Mall that just opened a few months ago on Main Street right next to one of the subway entrances. The stores, top-floor restaurant, and general layout make the place feel *exactly* like a brand new mall in Shanghai or Beijing. Except that it was spotlessly clean.
We also checked out the 2nd floor supermarket, which had wide, squeaky-clean aisles and the best selection and prices I've seen anywhere in New York. Lobsters for $4.99 a pound? Economy-sized jars of sambal oelek? Whole ducks for $13? It's baffling how they get prices so low. But the cleanliness and lack of crowds is so appealing, I may end up buying all my Chinese groceries here from now on, despite the 3-hr round-trip from Park Slope.
And it's a nice excuse to stop by Fu Run again for lunch in the future.
Fu Run 40-09 Prince Street, Flushing (Map it!) Queens, NY 718-321-1363
______________________________
Other restaurants in New York:
Nyonya - Malaysian Food in Chinatown
Grand Sichuan International – Chelsea
Soupy Dumplings and Pan-Fried Bao at Nan Xiang
3 Taiwanese Dishes Worth the Trip to Flushing